It is no secret that storage can go a long way when you are a parent, especially if you have a toddler with a lot of toys, picture books, clothes and linen. This is why you want to consider a toddler bed with storage for your child.
A toddler bed with storage makes it easier to keep their nighttime essentials close to them, such as their favorite book or an extra blanket. It also gives you another place to store their belongings without taking up additional floor space.
How to Choose a Toddler Bed with Storage?
You'll notice that most of the toddler beds with storage have the same design: they are low to the ground, have an under bed drawer, and side rails for added safety while your child sleeps at night. Most of them are suitable to be used by kids 18 months and older up until 5 years old. They fit a standard crib mattress size, which is 27.25″ W x 51″ to 58″ D. You can find different color variations, to fit your room interior.
If you are looking for a toddler bed with storage, consider the following selections.
Disclosure: This post features affiliate links, which means that we may get compensated for items purchased through our site, at no additional cost to the reader.
1. Dream On Me Deluxe Toddler Day Bed with Storage Drawer, Natural
This toddler daybed is perfect for your little one, as it features railings to keep them safe in bed, but it also includes an opening to make them feel like a big kid. During the day, they can sit on their bed as if it is their own little couch. And once they grow older, you can remove the safety guardrail on the front. The bed features an underneath drawer for their belongings. It also comes in several shades to fit the interior of their bedroom, and the shades include natural, cherry, espresso, black and white. It has lead free and non-toxic finish, so whichever color you choose will be both safe and beautiful.
Price: $159 from Walmart (image source and retailer)
---
2. Dream On Me Toddler Sleigh Bed with Storage
If you are looking for a style of bed that is different from toddler daybeds, consider the toddler sleigh bed with storage. The curved headboard and footboard add a bit of enchantment to their bedroom, plus the bed comes in multiple finishes for aesthetic purposes. It also features two trundle drawers underneath for organizing your toddler's belongings, such as their pajamas and extra blankets. The bed also features a low height and has two safety rails on both sides to keep your little one safe. It's dimensions measure: 57 in long x 32.5 in wide x 4 in high.
Price: $186 from Walmart (image source and retailer)
Shopping tip: the Dream On Me Toddler Sleigh Bed with Storage is also sold on Wayfair, click here to check it's price.
---
3. Dugas Deluxe Toddler Daybed with Storage, by Harriet Bee
A bed with a drawer underneath is a popular type of toddler bed with storage, and this deluxe toddler daybed is no exception. Your little one can easily access their underneath drawer as needed. So you can have a handy kids storage solution, whenever you need it. It is easier for your child to sit on or climb in and out of bed with the opening, but the guard rail keeps them safe as they are playing or sleeping in their bed. The bed comes in several shades to match your child's bedroom.
Price: $204 from Wayfair (image source and retailer)
---
4. Clarkson Toddler Bed with Drawers, by Harriet Bee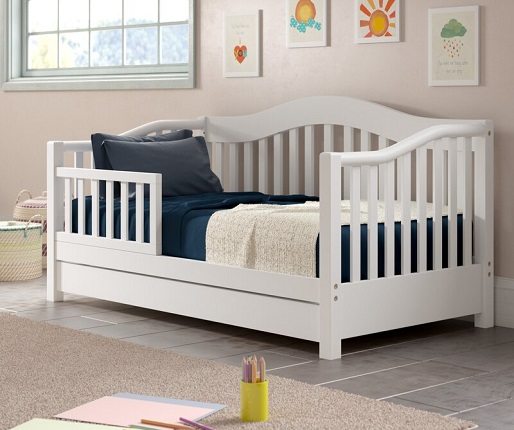 Another daybed for your toddler's bedroom, they are sure to love a bed that is comfortable enough for sitting or lying down. It is made of solid pine with an arched back to create a classic design, and you can choose from a white, espresso, cherry or natural bed. The drawer underneath the bed is a great storage solution for your toddler's belongings, while the guard rail keeps your little one from falling out of their bed as they sleep.
Price: $209 from Wayfair (image source and retailer)
---
5. Step2 Toddler Storage Loft Bed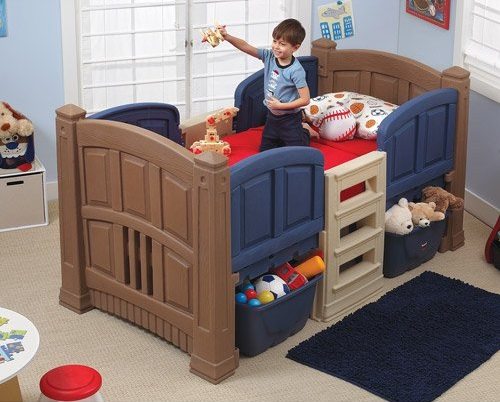 Your little one is sure to love this toddler storage loft bed, as it features fun colors, a real wood look and a sturdy center ladder. The bed also features side rails to keep your toddler safe as they sleep. Under the bed is enough space which can fit over 28 cubic feet of storage, such as storage bins or baskets, allowing you to store their toys, stuffed animals or linen without creating any clutter. This toddler bed with storage is designed with their comfort, convenience and safety in mind. It is recommended for children 3 years and up, and fits a standard twin size mattress which means that they can use well into their teenage years. It's size is larger than all the rest and has the following dimensions: 47 in long x 85 in wide x 44 in high.
Price: $599 from Walmart (image source and retailer)
Please note: the prices mentioned in this post were last updated on July 26, 2020. For up to date prices, please click on the link of each product.