There is nothing wrong with buying your little one furniture that enhances their imagination. One example is a boat bed, which is a great way to make them feel like they are spending a day at sea. You can find a variety of boat beds, with features ranging from storage to trundles. These kids beds are designed to fit in your child's bedroom, and the different features make it easier to find a bed that meets their needs.
If you are looking for a way to enhance their imagination, let your child sail away to dreamland with these kids boat beds.
Disclosure: This post features affiliate links, which means that we may get compensated for items purchased through our site, at no additional cost to the reader.
1. Kincade Twin Platform Boat Bed with Drawers and Shelves, by Zoomie Kids
With this boat-shaped platform bed, your child is sure to feel like the captain of the ship. It is painted in blue to create a relaxing day at sea. Storage is never a problem with the built-in drawers and shelves, keeping their nighttime essentials within reach. The foot of the bed is designed to resemble the front of a boat, creating a seat for your child during their sea-inspired adventures. It's made of solid and manufactured wood and it's overall dimensions are: 38" high x 40" wide x 74" long.
Price: $579.99 from Wayfair (image source and retailer)
---
2. Twin Mate's & Captain's Boat Bed with Trundle, by Hokku Designs
Sleepovers are sure to be a hit with this boat-shaped trundle bed, as these kids boat beds offer a comfortable sleeping arrangement for your little captain and their first mate. The bed is white and wood-toned with two dark blue anchor prints on the front for a nautical-themed piece. It also features two underneath drawers for toys, clothing and books, as well as a storage compartment at the foot end. It's crafted from solid wood and veneers and the trundle roll out easily, so you're always ready to host guests.
Price: $829.99 (reg. $939.44) from Wayfair (image source and retailer)
---
3. Zyon Novelty White Twin Solid Wood Nautical Bed and Trundle, by Furniture of America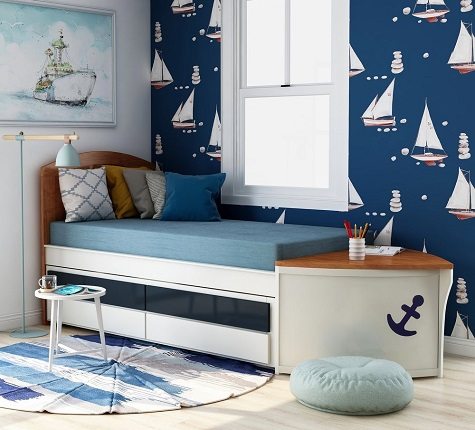 This bed looks very similar to the one above, but it's made by Furniture of America. It has a nautical and coastal look, and also comes with a trundle, two drawers, and lift-top compartment in front deck giving you additional storage space.
Price: $1,112.49 from Overstock (image source and retailer)
---
4. New Fairfield Mate's & Captain's Bed with Bookcase and Drawers and Mattress, by Breakwater Bay
Your child is sure to feel like they are on their own ship with this boat bed. Brown with a sail, flag and an anchor embellishment on the front, your child's bed is sure to stand out from other beds. The mast and sails, are truly unique and create the perfect pirate ship bed. The bed is finished in warm chestnut wood grain veneer, which is premium quality and resists stains and scratches. In addition, storage is never an issue with the built-in bookcase and underneath drawers. The bed also includes a comfortable mattress to make shopping for your child's bedroom a breeze. The mattress is a 6 inch memory foam mattress, with 1 inch cooling gel foam layer on top and 5 inch high density firm foam layer on bottom, and 100% cotton mattress cover.
Price: $989.99 (reg. $1,113.00) from Wayfair (image source and retailer)
---
5. Twin Over Twin Boat Bunk Bed, by Isabelle & Max
From siblings to friends, two children are going to be excited when they see this twin bunk bed. These kids boat beds feature a twin-over-twin style to fit each child comfortably. The front of the bed is shaped like a boat to encourage their play adventures, plus it includes built-in shelves for toys and books. It also features a sturdy built-in ladder and guardrails to keep your little sailors safe. This is a low bunk bed, with overall dimensions of: 57" high x 41" wide x 100" long. The weight capacity of the top bed is 175 lbs. and 200 lbs. for the bottom bed.
Price: $799.99 (reg. $1,159.99) from Wayfair (image source and retailer)
---
6. Ronna Twin Over Full Nautical Bunk Bed, by Harriet Bee
Another option for siblings or friends, you are investing in a twin-over-full bunk bed for your little mateys. The top bunk features guardrails that make it feel like a classic ship, while the bottom bunk features windows in a ship-wheel design. It also features a sturdy, slanted ladder to make it easier to use the top bunk. The bed itself is white and brown to fit any child's nautical-style bedroom. The dimensions of the bed are: 69" high x 58" wide x 80" long.
Price: $1,149.99 from Wayfair (image source and retailer)
Please note: the prices mentioned in this post were last updated on June 22, 2020. For up to date prices, please click on the link of each product.