Now you can make your kid's room even more fun and whimsical by getting them a kids house bed. No matter if your child is a toddler or a teenager, there are lots of beautiful house shaped beds you can find, that they will absolutely love. Add some fairy lights or a canopy, and transform their bedroom into a magical fairy tale.
How to choose a toddler house bed?
If your toddler is ready to transition from their crib to a toddler bed, getting them a toddler house bed will make this transition much more easy and fun. First your child will be very excited about their new bed, and will want to go to sleep without any issues and fights at night. The second important factor is that these types of beds are very low to the ground, so you don't have to worry about your toddler tumbling down in the middle of the night. Another factor to consider, is that you don't need to buy a new mattress, since the will fit your standard crib size mattress perfectly. On our list below, number 1 and number 2 are house shaped toddler beds, while the rest are twin sizes.
Types of Kids House Beds
The majority of kids house beds come in twin size, and fit a twin size mattress (38″ wide by 78″ long). Here are some different types of beds you can find: a house floor bed, where the mattress lays on the ground or there could be slats, so there is a small clearance from the floor to the bed. You can also find a house loft bed, which is higher off the ground and has a ladder to get inside. Or you can also find a house bunk bed, where the whole bunk bed frame has a shape of a house, with windows and even a roof.
Now let's check out 6 of the Best Kids House Beds in Toddler and Twin sizes!
Disclosure: This post features affiliate links, which means that we may get compensated for items purchased through our site, at no additional cost to the reader.
1. South Shore Sweedi Natural Poplar Toddler House Bed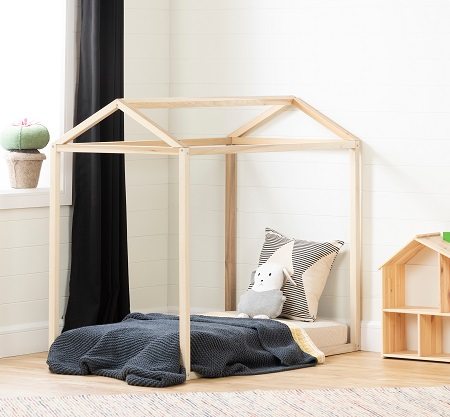 This bed has a Scandinavian design with it's clean and natural look. The bed is made in North America with 100% solid Poplar wood. So you know it will safe and sturdy for both sleeping and playing there. It comes with 1 year limited guarantee. It fits a standard crib size mattress, which is great since you can use your baby's old mattress, and won't need to buy a new one. Here thе mattress sits on the floor, and it does not require a slat kit.Your child will be close to the floor, and you won't have to worry about any night tumbles. There is also an option to remove one of the crossbars, this allows you to play with your kids without hitting your head. Since there are no slats, you can also use the bed as a playhouse, and eventually use it as a toddler bed, when your child is ready. South Shore Furniture is a company established in Quebec in 1940, and manufactures bedroom and kids furniture, which is easy to assemble and affordable.
The overall dimensions are: 47.5 inches high x 30.5 inches wide x 54.5 inches long
Price: $155.93 (was $177.56) from Walmart (image source and retailer)
---
2. House Bed Frame Toddler Bed PREMIUM WOOD, by Purveyor 15
Another adorable toddler house bed frame, this time manufactured by Purveyor 15. The wood that is made to manufacture the bed is premium, clean and locally harvested Poplar wood. The best part about this bed is that you can further customize it, and order additional items such as a chimney and a picket fence! If you order it without any add-ons, it will arrive without slats. You can buy it with slats, 6″ legs, which is a great option if you would like your child to sleep a little bit high off the ground. You can get it with a fence on 3 sides, or 4 sides which will act as a guardrail, or with 3 rails fence on 4 sides. It will fit a crib size mattress, so you don't have to buy a new mattress. The bed has a natural wood finish, but if you would like you can paint it yourself once it arrives at home. It's very easy to paint, you will need a 4″ roller and about one or two quart of paint. You can paint it in white, pink, blue or whatever color you prefer and will fit well with your room interior.
Price: click on button to check price, from Amazon (image source and retailer)
---
3. Poppy House Twin Platform Bed, by Delta Children
This is a whimsical house shape bed, in twin size, which your child will absolutely love. There is even a handy book rack at the foot-board, where your child can store his or her books and magazines. It's made of sustainable New Zealand pine wood and TSCA compliant engineered wood. The best part is that it's available in white, plush pink or grey color. During the painting process, the manufacturer has used non-toxic paint, which is lead and phthalate safe. It's recommended for children 35″ or taller. It comes with slats included.
Price: $279.99 from Wayfair (image source and retailer)
---
4. South Shore Sweedi Natural Poplar Twin House Bed
South Shore has made another very cool and beautiful kids house bed, that you can choose from 5 colors! You can get it in white, matte black, black, pink or natural Poplar. What's unique about this bed is that there are two styles you can choose from: house bed (shown on the left) or bed and house frame headboard (shown on the right). Your child or teenager is sure to fall in love with this bed, and use it for years to come. It has a 250 lbs weight capacity and is made from solid wood. It has wooden slats, and has a small underbed side clearance, so it doesn't sit all the way on the floor. Comes with 1 year limited warranty.
Price: click on button to check price, from Amazon (image source and retailer)
Shopping tip: This bed is also sold on Wayfair, check it's price here.
---
5. Rowan Valley Forest Twin Loft Bed, by Little Seeds
This is a super fun loft bed that has a house shape and fabric curtains that can be used to play there during the day. It's made of sturdy metal, it has guardrails all around, and is low to the ground. It has polyester fabric curtains which can be rolled and tied up, or have them lay loose, so your kids can play and hide inside. The bed comes with slats.
Price: $499.99 (reg. $779.00) from Wayfair (image source and retailer)
---
6. DONCO Kids 1380TLRS Series Loft House/Cabin Bed, Twin
Another loft bed, where your child is sure to have a blast playing and sleeping there. It's made of pine wood, and has a rustic sand color finish. Many customers have complimented that their child absolutely loves the bed and is having a blast in them. It comes in twin size, so your child can use it for many years to come.
Price: click on button to check price, from Amazon (image source and retailer)
Please note: the prices mentioned in this post were last updated on June 12, 2020. For up to date prices, please click on the link of each product.