Do you want to add some fun and excitement into your kid's room? Then consider getting your boy or girl a loft bed with slide! Your child can spend hours sliding down the slide or playing under the loft bed. When bed time comes, there shouldn't be any struggles to go to bed, since any child is sure to love their new bed.
How to choose a loft bed with slide?
Generally a loft bed with slide fits a twin size mattress (with dimensions around: 38 inches wide by 75 inches long). It has a low loft design and measures around 45 inches in height. There is a slide on one side and a ladder or stairs on the other. The space beneath the loft can be used by your child to play and hide there. You can buy a tent or curtain separately, and create the perfect hiding and playing area. Or you may use the space beneath for storage or to place a bookshelf or chest of drawers for example.
Now let's check out these 8 fun loft beds with slide, which are sure to turn any kid's room into a playroom!
Disclosure: This post features affiliate links, which means that we may get compensated for items purchased through our site, at no additional cost to the reader.
1. Whitbeck Twin Loft Bed with Slide, by Viv + Rae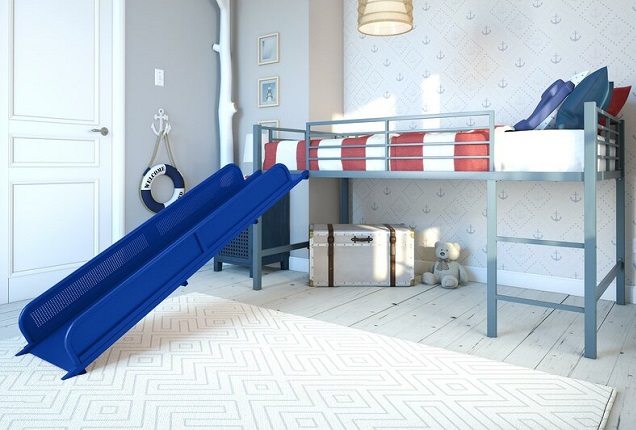 This is a sturdy and fun metal loft bed, that you can choose in three color options to fit your room interior. You can choose from: white bed frame and white slide, silver bed frame and blue slide, or grey bed frame and red slide. It has full length guardrails to keep your child safe. The weight capacity of the bed is 200 lb while for the slide is 150 lb. The slide is detachable, and can be taken off easily when it's not in use, so you can conserve space. The slide is fixed on the right side as shown in the picture. The age limit is 4 years and up for sleeping on the top bunk. It's dimensions are: 43" high x 41.5" wide x 98.5" long.
Price: $194.99 (reg. $349.00) from Wayfair (image source and retailer)
---
2. DHP Junior Loft with Slide, Multiple Colors Available
This is a very similar bed to the one above, however it's made by DHP. It's also constructed from sturdy metal, and has guardrails. The weight limit is 200 lb and the recommended age for using it is 4 years old and up. It has secured metal slats, so you just have to place your twin mattress on top.
Price: $215.00 from Walmart (image source and retailer)
---
3. Donco Twin Low Loft Bed with Slide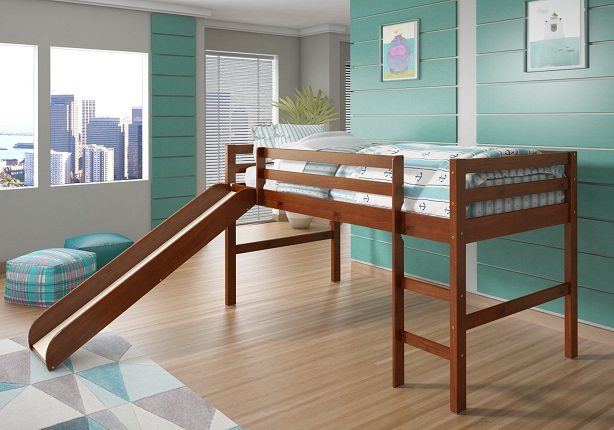 If you're looking for a bed that's made from wood and has an affordable price, here is a great option to consider. It's constructed from durable solid pine wood and has steel hardware. The slide extends 49 in. from bed rail, and can be easily removed, to save extra space in your kid's bedroom. It's available in white or espresso, and has a durable wax finish, which protects the bed's surfaces against wear and tear. The maximum weight capacity is 160 lb.
Price: $281.30 (reg. $366.00) from Walmart (image source and retailer)
---
4. Schmid Twin Low Loft Bed with Slide, by Zoomie Kids
This is a very fun and creative bed that has a climbing rail instead of a ladder! There is also a cool chalkboard on the front side of the bed, where your child can use it to draw and write there. Here the underbed clearance is 19 inches, which is lower than the rest of the beds on this list. The shorter underbed clearance might be more suitable for storing away items than for playing.
Price: $359.99 (reg. $389.99) from Wayfair (image source and retailer)
---
5. Ackryod Twin Loft Bed, by Harriet Bee
This bed gives your child storage space as well as more space under the bed for playing or for putting a desk for example. Here the loft bed is higher than all the rest on the list, it's 61.4 inches high. The underbed clearance is 51 inches, so there is plenty of space to play there, or put a desk, chest of drawers or other furniture item the room needs. You'll notice that the loft bed has stairs instead of a ladder, and there are 3 handy storage compartments hidden under the stairs. It's made of manufactured and solid wood and the weight capacity is 250 lb. You can buy it in white or espresso.
Price: $689.99 (reg. $959.00) from Wayfair (image source and retailer)
---
6. Renley Complete Twin Low Loft Bed with Drawer and Bookcase, by Harriet Bee
Is your child's room short on space, but you still want it to be fun and functional? If you answered yes, then you'll want to take a closer look at this bed by Harriet Bee. This loft bed comes with a slide, ladder, slats, 3 drawer chest, bookcase and a toy box! Firstly the chest is not attached to the bed, so you can move it in another place, and free the space under your loft for your child to play there. Secondly, the slide and ladder can be assembled on either side, while there is an option to remove the slide, when it's not used. It's constructed from solid pine wood, MDF and pine veneers, while the wood used comes from sustainable forests. You can choose from 3 colors: white, chocolate, or grey.
Price: $879.99 (reg. $999.99) from Wayfair (image source and retailer)
---
7. Johannes Castle Twin Low Loft Bed with 3 Drawers, Slide and Tent, by Zoomie Kids
This is a low loft bed, that has stairs, slide and a tent. The best part is that you can choose form a wide range of colors for the tent and bed frame. The bed frame is available in: white, grey, brown, cherry and blue color. While there are 6 colors for the fabric tent and tower you can choose from: blue, gray camouflage, pink camouflage, pink, red/yellow/blue, and red. You are sure to find the right color combination that's perfect for your boy's or girl's room. Here there is a stairway which has 3 drawers, which are super handy for storing toys and keeping the room tidy and organized. The stairway and slide can be assembled on either side.
Price: $899.99 (reg. $1,095.00) from Wayfair (image source and retailer)
Did you know that you can buy a tent separately, and just attach it to the bed, to create a cool hiding spot and play area for your child?
Max & Lily Loft Bed Tent (Multiple Colors)
You can buy it in blue, pink or purple. There is a roll up door and three transparent plastic windows. The tent includes two curtains: one front panel and one side panel (so if your kid's bed is placed on the corner, it will cover the two sides perfectly). The tent fits a twin size low loft bed, as well as a low bunk bed.
Price: click on button to check it's price on Amazon (image source and retailer)
Please note: the prices mentioned in this post were last updated on June 17, 2020. For up to date prices, please click on the link of each product.